July 15: Rebecca Ciez, Columbia University
"Designing Energy Storage for Climate Goals"
Co-sponsored by the Andlinger Center for Energy and the Environment at Princeton University
ciezphoto.jpg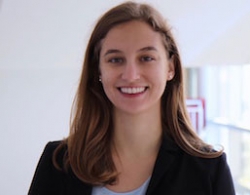 Rebecca Ciez
Postdoctoral Researcher, Columbia University
Assistant Professor, Mechanical Engineering and Earth and Ecological Engineering, Purdue University (starting fall 2020)

Moderator: Jason Ren, Professor of Civil and Environmental Engineering; Acting Director, Andlinger Center for Energy and the Environment 
View a recording of this talk.
About the Speaker: 
Rebecca Ciez is a Postdoctoral Researcher at Columbia University and incoming Assistant Professor in Mechanical Engineering and Earth and Ecological Engineering at Purdue University. Her research focuses on how energy systems, including transportation, electricity, and industrial systems, can work together to transition to a decarbonized future. Using a systems-analysis approach, her work draws upon methods from engineering, policy analysis, and economics. She holds a bachelor's degree in mechanical engineering from Columbia University and a Ph.D. in Engineering and Public Policy from Carnegie Mellon University.
About the Moderator:  
Jason Ren is a professor of Civil and Environmental Engineering at Princeton University, where he also serves as acting director of the Andlinger Center for Energy and the Environment. Professor Ren's research focuses on the design and optimization of energy efficient water treatment systems and on energy and resource recovery during treatment processes.  In addition to being to the author or co-author of more than 100 peer reviewed journal articles, Professor Ren is the recipient of numerous awards and honors, including, most recently, the 2020 ASCE Walter L. Huber Civil Engineering Research Prize for "producing groundbreaking technological advancements that are transforming water infrastructure for energy and resource recovery."
About the Talk: Transportation and electricity systems are two of the largest sources of greenhouse gas emissions globally. Energy storage technologies, especially batteries, are poised to play a substantial role in both of these sectors. Given the scope of the challenge, and the diversity of applications, it is imperative that we design storage technologies that are suitable for vehicles and the changing demands of the electricity grid. Storage must also be inexpensive enough to be widely adopted while minimizing the environmental impacts of manufacturing and disposal. Focusing on lithium-ion batteries—the incumbent energy storage technology—this talk will discuss methods and outcomes to analyze technologies with these competing goals. Process-based cost modeling methods and results show which attributes are most significant to reducing the cell-level battery cost. Life cycle assessment highlights the limitations of current battery recycling methods, and the tension between incentives for low upfront cost technology and profitable recycling methods.