September 23: Erin Mayfield, Princeton University
"Prioritizing Social Equity in Infrastructure Transitions to Achieve Net Zero Emissions"
View a recording of this talk.
headphoto2.jpg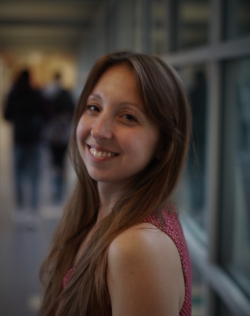 About the Speaker: Erin Mayfield is an environmental systems engineer and public policy researcher, with expertise in sustainable systems, multiobjective modeling, and environmental economics.  She is a postdoctoral scholar at Princeton University, where her research focuses on modeling net zero energy system pathways, assessing the multi-attribute conversion potential of existing thermal assets in the U.S., and evaluating the air quality and labor market effects of net zero energy systems.  She completed her Ph.D. in Engineering and Public Policy at Carnegie Mellon University (2019), where she developed a macro-energy systems model that optimizes for both cost objectives and sustainability objectives (i.e., climate, air quality, employment, social equity) with respect to sequential decisions regarding the timing, magnitude, and location of energy infrastructure and investments across regional supply chains.  She previously worked as an environmental scientist on natural resource damages litigation, land use planning, and valuation of ecosystem services.  Dr. Mayfield has also held positions at the U.S. Environmental Protection Agency, U.S. Congress, and Environmental Law Institute. She received her bachelor's degree in environmental science from Rutgers University (2008) and master's degree in environmental engineering from Johns Hopkins University (2011).
About the Talk: Social inequities are embodied in energy system infrastructure. Transitioning to a net-zero economy entails transformational changes in energy infrastructure, creating the potential to mitigate inequities.  Social equity has historically been treated as ancillary or an outcome rather than an objective of infrastructure system planning and policy in the U.S. 
This presentation first reviews the historical, persistent, and multidimensional inequities embedded in coal and natural gas infrastructure as well as chemical, iron and steel, cement, and lime industrial facilities.  Then, an approach for prioritizing social equity in future infrastructure planning, while achieving a net zero emissions target, is outlined.  As an example, transition pathways are presented in which air quality benefits to environmental justice communities are optimized, with respect to decision regarding the timing and location of investments in the retirement and conversion of coal, natural gas, and industrial facilities in the U.S.