Wednesday, February 16
Dominic Bednar, Arizona State University | Towards Energy as a Human Right: A Multidimensional Exploration of State and Utility Level Disconnect Policies in the United States during COVID-19
A recording of this talk will be posted soon. 
About the talk: The United Nations' Sustainable Development Goals promote access to affordable, reliable, sustainable, and modern energy for all, yet millions of American households suffer from energy poverty, threatening their continued access to electricity. A household is energy poor when they cannot meet energy needs. Disparities in access to affordable and sustainable household energy have been documented spatially, racially, and economically. Despite its prevalence, the US has not formally recognized energy poverty as a problem distinct from general poverty at the federal level, which limits effective responses. 
While policies supporting energy protections have been in place for years, they vary spatially. The COVID-19 pandemic of 2020 unveiled the entrenched environmental and energy injustices that threaten public health at the household level and inspired energy protection responses to address pandemic-caused economic hardship. This talk explores the responses implemented in 25 major metropolitan areas in the United States. 
Dr. Bednar employs a content analysis of policy language to examine the urgency and binding level of COVID-19 era protections, demarcating them as either mandatory or voluntary measures. He characterizes a suite of residential energy protections as 'energy resiliency responses' required to reduce vulnerability to energy poverty and build resilience during the pandemic. He finds differences in consumer energy protections among low-income and highly energy burdened households and conclude that protections are unevenly deployed across the country. These findings motivate contemporary national, state, and local energy poverty recognition and responses that center personal and economic wellbeing during and after crises.
dominic-1_2_1.jpeg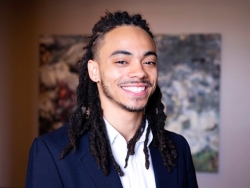 About the speaker: Dr. Dominic J. Bednar, Presidential Postdoctoral Fellow at Arizona State University, is a community-engaged scholar and engineer. His research examines the institutional barriers of energy poverty recognition and response in the United States. In doing so, he explores the spatial, racial/ethnic, and socioeconomic patterns of residential energy affordability, consumption, and efficiency. His body of work contributes to the growing energy, environmental, and climate justice fields and promotes ongoing policy analysis and program evaluations to improve community health and to effectuate a just energy transition. Collectively, his work aims to provide clarity for structuring more effective policy interventions and improving decision making that supports assistance to energy-vulnerable households, those likely to fall into energy poverty.
He completed his Ph.D. at the University of Michigan's School for Environment and Sustainability concentrating on Energy Justice. Dr. Bednar holds a BS in Civil Engineering from the University of Maryland and a MS in Natural Resources and Environment (Sustainable Systems) from the University of Michigan. Currently, Dr. Bednar is a Presidential Postdoctoral Scholar at Arizona State University's School for the Future of Innovation in Society. He has been recognized as an Imagining America Publicly Active Graduate Education Fellow (PAGE), Fulbright Scholar, Ford Foundation Predoctoral Fellow, Bouchet Graduate Honor Society member, Rackham Merit Fellow, GEM Fellow, and Forbes Under 30 Scholar.
Dr. Bednar is committed to fighting climate change through the integration of academic research on residential energy injustices in a way that engenders community engagement and co-development of impactful solutions. He centers community knowledge and experiences through his teaching and research. His passion for environmental justice and community-engaged pedagogy guides his writing, teaching, and community-based learning consultancy.
Links